Hunter's hut
Hunter's hut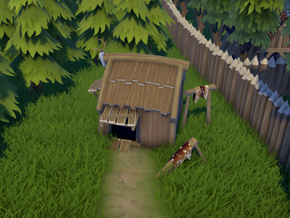 Produces

Boar
The Hunter's hut is a late game building that produces

 Boar . Before you can produce these products you need to zone an area as 'Hunting Zone'.
Boar can then be sold at a Market in a Food Stall or be combined with

 Cheese in a Tavern to make a

 Meal .
The Hunter's hut becomes unlockable by having 20 commoners and reaching 15
 Kingdom
 Splendor and costs 3
 Kingdom points to unlock.
Beautification
Bridge
General
Master Piece
Mines
Workplaces