You can't save yourselves
But you can save your legacy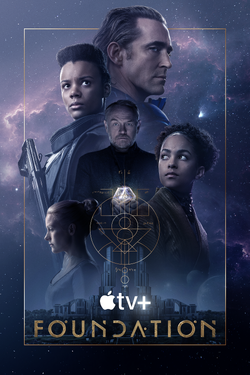 Based on the award-winning novels by
Isaac Asimov
,
Foundation
chronicles a band of exiles on their monumental journey to save humanity and rebuild civilization amid the fall of the
Galactic Empire
.
When the greatest mind in the galaxy, Hari Seldon, predicts the collapse of the Empire, he and a small band of followers venture to the far reaches of the galaxy to establish The Foundation and must defend it as crises threaten to destroy all they have built.
Meanwhile, fearing their grasp on the galaxy may be weakening, the ruling Cleons -- a long line of emperor clones -- soon find themselves on a collision course with the Foundation.
Foundation is now streaming exclusively on Apple TV+.
Welcome to the Foundation Wiki on Fandom
We are a community database about the TV series adaptation of Isaac Asimov's Foundation -- created by fans, for fans. Our goal is to build an informative and comprehensive resource about all things related to the imagined world of the Apple TV+ series.
We also have a place for getting to know each other and to talk about Foundation in our Discussions. Whether you are here to start editing or to chat with fellow users, you are welcome to sign up for an account!